Hy-gene Seminal Fluid Collection Kit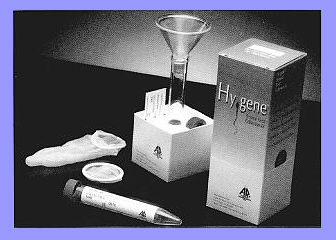 Now, a Hygienically Superior Semen Collection System for Viable Samples and Convenient Laboratory Analysis.
This sterile system consists of two key components: A comfortable, sensitive, non-spermicidal, polyurethane condom, and a hygienically acceptable vial for transporting the specimen to the laboratory.
Hy-gene's first advantage is that the patient may collect his specimen more conveniently at home during intercourse. Not only does this eliminate stress caused by objections to masturbation, it yields samples of superior viability. (1,2,3,4) The condom is made of ultra-thin, non-spermicidal polyurethane -- providing for user comfort while maintaining a biologically inert environment.
Hy-gene's second advantage offers substantial benefits to laboratory personnel. The handling of the condom is done only by the patient. A small scissor slice is made at the reservoir end of the condom. The patient then empties the contents through the system's funnel into the transport vial. The vial is sealed with a tight-fitting cap, and the funnel and condom are discarded. The patient applies the provided I.D. label and delivers the vial to the laboratory preferably within an hour, keeping the sample at near body temperature during transport.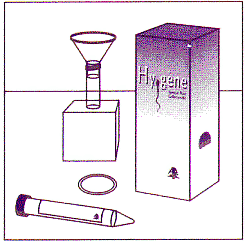 The Hy-gene (TM) Kit contains a fertility condom, funnel, transport vial and label.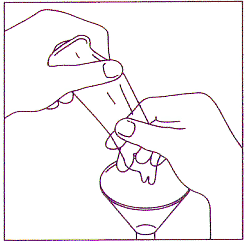 The specimen is collected then extracted from the condom through the funnel and into the transport vial.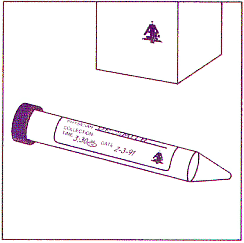 The funnel is discarded and the transport vial is sealed and labeled.
The Method of Choice for Safe, Fast Easy Workups.
HYGIENICALLY ACCEPTABLE: Sample arrives in sterile, sealed polystyrene transport vial.
INFECTION CONTROL DUE TO DECREASED SPECIMEN HANDLING: No need for laboratory personnel to transfer sample.
SPEED AND CONVENIENCE: Lab workup made faster and easier by eliminating transfer step.
DIRECT AND ACCURATE VOLUME DETERMINATION: Kit includes a 15ml graduated, conical end, centrifuge vial.
MORE VIABLE SAMPLES: Studies show that the samples obtained through intercourse can be more viable than those obtained through masturbation.
PATIENT ACCEPTANCE: Convenient, discretionary, at-home collection under natural conditions of intercourse overcomes stress and objections to masturbation caused by religious, cultural or emotional reasons.
To begin benefitting from this hygienically superior and cost-effective system, call APEX at (858) 535-0012 now to place your order.
Hy-gene Seminal Fluid Collection Kit: Model ACK-121
30 ct. case - $380
100 ct. case - $1205
Purchase these fertility products online through our distributor, Rhea Care.
---
References:
Zavos, PM, Characteristics of human ejaculates collected via masturbation and a new Silastic seminal fluid collection device. Fertil Steril 43:491, 1985.
Zavos, PM, Seminal parameters of ejaculates collected from oligospermic and normospermic patients via masturbation and at intercourse with the use of a Silastic seminal fluid collection device. Fertil Steril 44:517, 1985.
Mehan, DJ, Chehval, MJ, A clinical evaluation of a new Silastic seminal fluid collection device. Fertil Steril 28:689, 1977.
Zavos, PM, Comparison of two devices for semen collection during intercourse. J of Andrology, 10:82, 1989.
---
Male-FactorPak and Hy-gene are trademarks of Apex Medical Technologies, Inc.
Notice: Always read product labeling/inserts for complete instructions, warnings and restrictions!